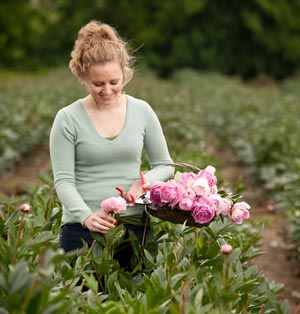 We harvest our peonies in a tight bud showing only a little colour.  To ensure you enjoy your peonies for as long as possible, we recommend that you remove the flowers from their packaging as soon as possible after delivery.  Cut off about 2cms from the end of the stem and put in fresh water in a clean vase with the flower food provided.
Peonies can look a little dehydrated on arrival – this is normal and they will rehydrate as good as new.  If on rehydrating the peonies they are opening a little too quickly, move to a cool place to hold.
We recommend that you change the water every couple of days, re-cutting the end of the stems each time.  Peonies will last longer if they are kept out of direct sunlight in a cool position.